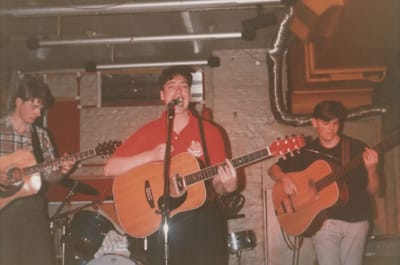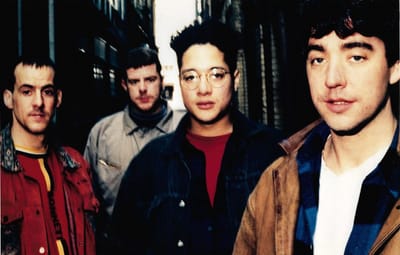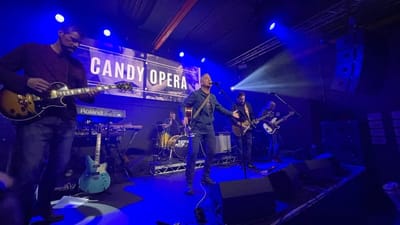 The Bands Early Years
To paraphrase Dickens, it was probably not the best of times. In 1981, Kensington, Liverpool was hardly 'des res'. Bedevilled by unemployment, heroin had started to make its mark with dealers finding easy prey amongst the disaffected youth of 'Kenny'. On the notorious Phythian Estate, though, a strange paradox emerged. Amidst the faceless and identical dwellings a band was formed, heavily influenced by Love's seminal Forever Changes album, The Beach Boys, Aztec Camera and local neighbours, The Pale Fountains. Their name was CANDY OPERA.

Whilst Merseyside's two teams were dominating association football at home and abroad and the main interest of the Scouse denizens was the type of 'trainies' (training shoes, colloquially) their peers were sporting, 'The Candies' came together in the summer of 1982 and played their first gig later that year (The Pale Fountains loyally in attendance). The original line-up comprised chief creative, vocalist and songwriter, Paul Malone along with Ken Moss (guitar), Ian Haskell (drums) and Mike Wiggins (bass). Over time they were augmented by Neil Cooper (inspiration), Carl Hodgson (guitar) and Colette Foy (backing vocals). They recorded a demo tape, Honeysuckle Rose, in 1983 with the assistance of Steph Lea on violin and Bryan Evans on clarinet and this has become something of a holy grail for completists and followers of the post-Punk Liverpool scene. Despite several high-profile live appearances – with The Pogues, The Go-Betweens, The Redskins and on Granada TV's Exchange Flags – plus reviews in NME, Sounds and Jamming magazines, the original quartet went their separate ways in 1985, bowing out with a trio of classic CANDY OPERA recordings; Diane, Serious and Second Time Around, as a swansong.

Mid 80's - Early 90's
Malone and Haskell remained the core of the band, recruiting Alan Richardson and Brian Chin Smithers from Wallasey combo, Edelweiss, along with three other local lads; Jimmy Cartwright, Markus Mulholland and Dave Murrant. Studio sessions in New Brighton created several new tracks including; Happy To Be The Plot But Not The Crime, The Gravy Train Run, Left, Right And Centre, The Good Book And The Green, Time, Religious and Shoot. By 1989, after this interim arrangement, only Malone and Chin Smithers remained but the band was made complete once more with the arrival of Come In Tokio drummer, Alan Currie and its bassist, Frank Mahon. Under the management of Neil Mather, this was arguably its purple patch with several high-profile support slots – most notably, with The Farm at Liverpool's Royal Court Theatre – and the interest of a number of the majors, amongst them EMI and Go! Discs. In true 'Candies' fashion, though, no deal materialised and mainstream success remained elusive. Although the members stayed together – becoming, for a short time, The Wailing Souls – CANDY OPERA ceased to exist in 1993, concluding as a mere footnote in the pantheon of great lost Liverpool bands. Until now…

2017
Having heard some of their songs online, Firestation Records of Berlin have made it their business to track down and put together the album that you now hold in your hand. The songs still resonate with their original contexts and nuances, writ large with paeans to unrequited love and diaries embossed with friendships long lost. They also speak to a time and a place, amidst the backdrop of an ever-changing landscape of the city that Jung described as 'The Pool of Life'. Compiling the album has itself been a labour of love, given that some former members have disappeared over the intervening 35 years along with various artefacts and recordings. Nevertheless, what you have here appears to comprise the bulk of CANDY OPERA's back catalogue, such as it is. Enjoy hearing these recordings, probably for the first time for the majority of purchasers, but listen, embrace and find some feelings that you'd left behind.
Dave Wiggins October 2017

Update
2018 -21
Two more albums followed Rarities and their latest release Patron Saint of Heartache, a few changes to the band, 2019 keyboard player Gary 'Goddo' O'Donnell
joined and 2021 Brian Chin Smithers left, and the band gained a new guitarist, John O'Neil. The new band formation will see the release of a fourth album in 2022/23.